Kimono Journal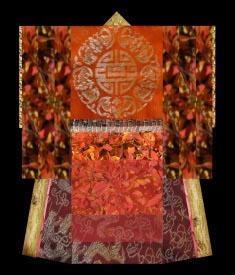 During a long period when I had neither time nor space for painting, I kept a journal of my photographic images. I then began manipulating the images using computer graphic programs. Eventually, they evolved into kimono shapes.

Each kimono evokes a memory, walking in the woods with my dogs, watching the sunset, reading a newspaper article or looking closely at a plant.
---
Waltham as Muse

For many years, I have been fascinated by the variety of architecture in Waltham, old industrial buildings, lovely residential areas, contemporary office complexes, historic estates and unusual bridges.
When I decided to make paintings using Waltham architecture as inspiration, I had a difficult time choosing from among the many possibilities. Each structure has its own interesting geometry, colors and details. The twelve paintings shown here were done in 2012.